Easter appetizer ideas: muffins with mushrooms, peas and ham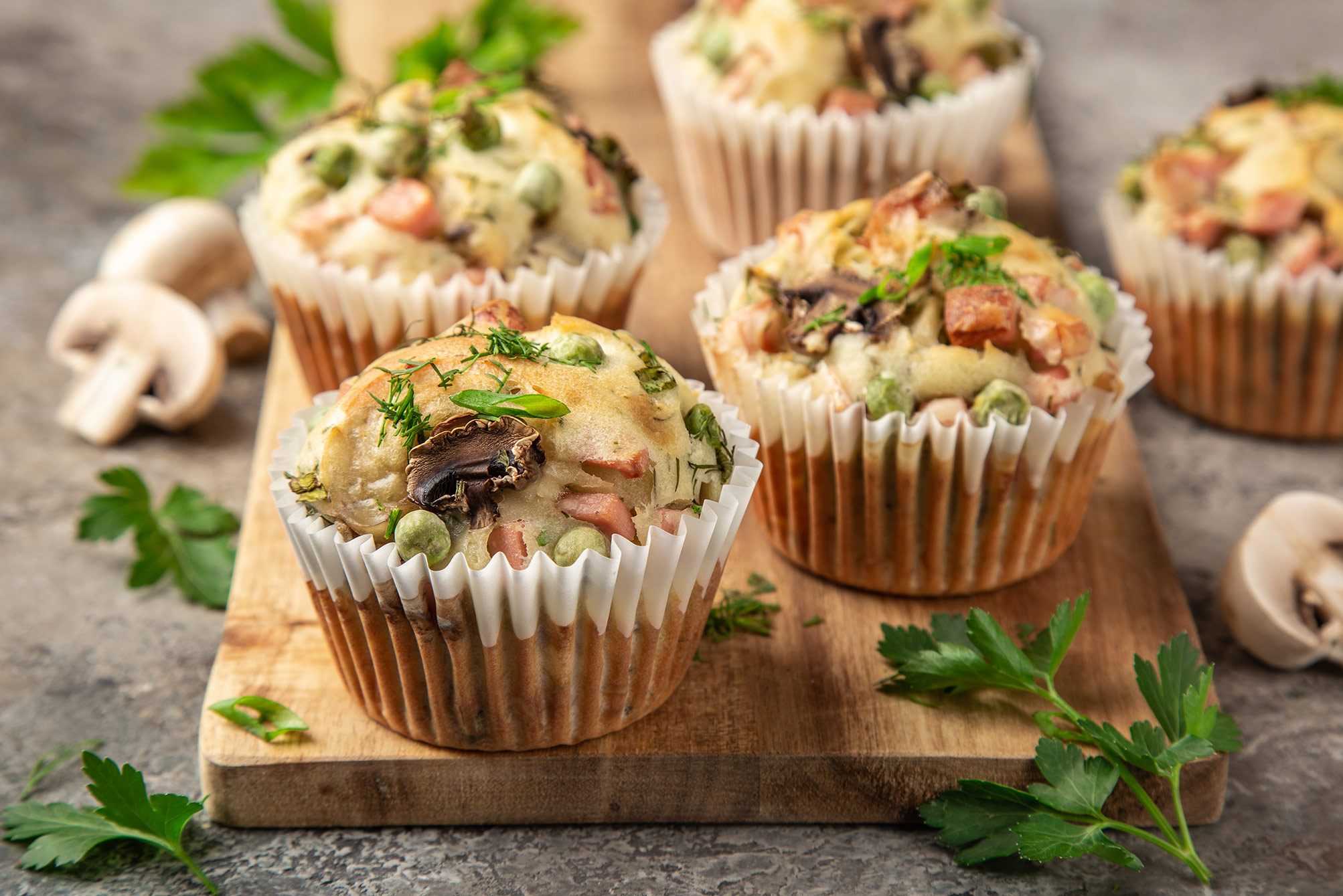 Easter appetizer ideas: muffins with mushrooms, peas and ham
A quick and simple recipe to be enjoyed as a snack or appetizer and served in Novacart baking cups.
Ingredients for 12 muffins:
10 oz of 00 flour
3 oz of diced cooked ham
4 oz of scamorza cheese
3 eggs
4 oz of milk
9 oz of mushrooms
3 oz of peas
Parsley
Garlic
Pepper
Salt
Oil
Parmisan cheese  
1 sachet of yeast for savory pies.
Preparation:
1. Cut the mushrooms into small pieces and cook over high heat for two minutes with a lid, then remove the lid and cook for another two minutes. Drain them and set them aside.
2. Fry oil and garlic in a pan, then add the mushrooms and peas and cook for about 5 minutes. Then add salt and parsley. Let it cool down.
3. Cook the ham cubes in a pan without oil. Meanwhile, mix the flour, Parmesan and baking powder in a bowl. In a second bowl mix milk, oil and eggs. Then combine the two compounds by adding a little salt. Mix well until you obtain a uniform mixture and then add the mushrooms, ham and scamorza.
4. Now distribute the dough in the Novacart paper cups, filling them for about three quarters. Insert the baking cups in a baking tray and  bake the muffins in the oven at 180 degrees for about half an hour.
Novacart product used: RD 4 X 2.1/2 | Paper baking cups
To prepare these savory muffins for your Easter appetizer you can use the single-serving cup RD 4 X 2.1 / 2 by Novacart, made of pure cellulose paper resistant to food fats, freezing and baking in the oven up to 220 ° C. Novacart baking cups are also recyclable and biodegradable. RD baking cups must be placed in a preformed pan before cooking but do not need to be buttered.