Peaches and walnuts plum cake in Novacart PM molds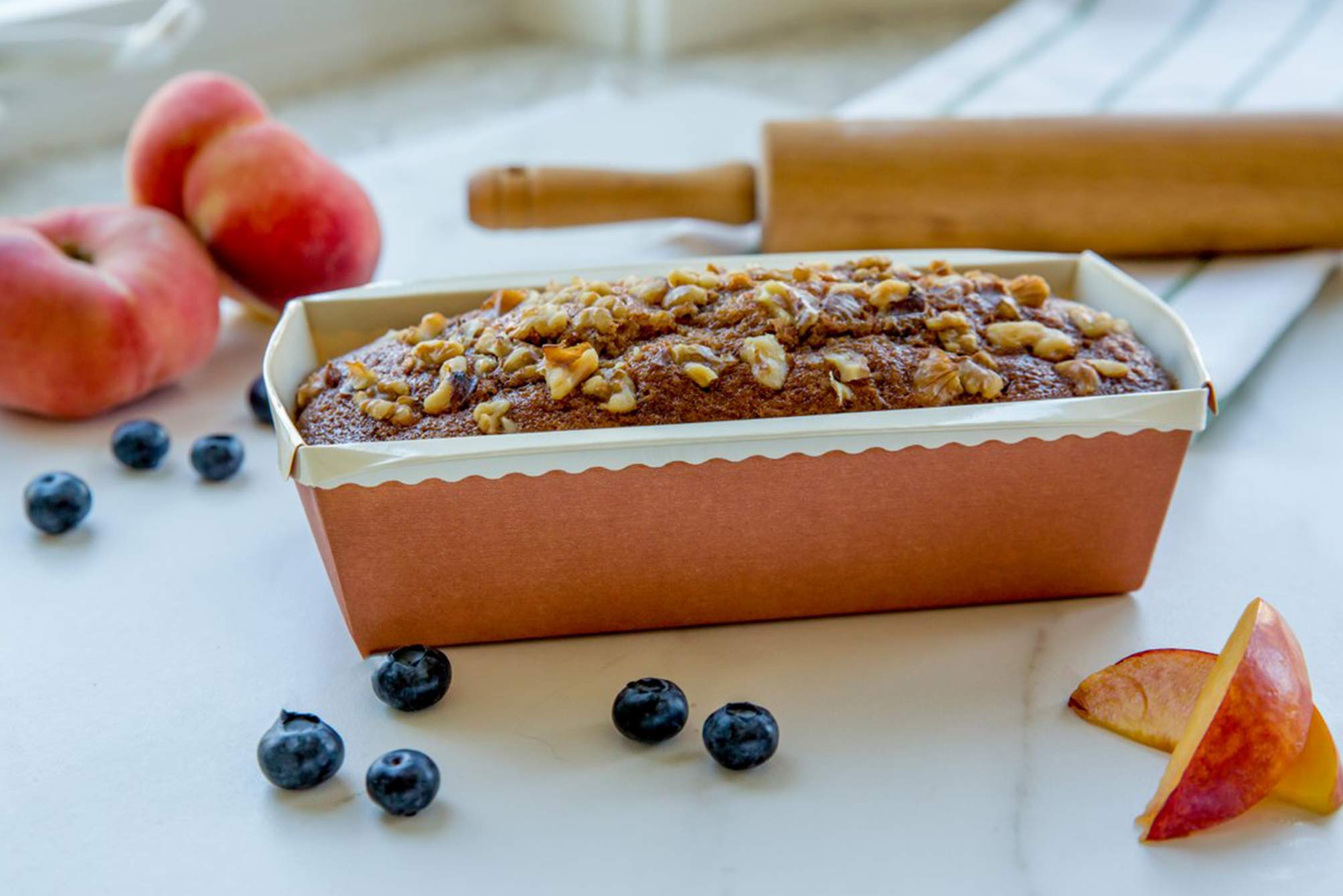 Peaches and walnuts plum cake in Novacart PM molds
The recipe for a delicious plum cake to be enjoyed at breakfast or as an afternoon snack, very easy to prepare with our baking molds.
Ingredients:
5 oz of 0 flour
1.7 oz of potato starch
4 walnuts
3 peaches
7 oz of peach yoghurt
5 oz of caster sugar
3 eggs
1 packet of baking powder
1 lemon
3 oz of sunflower oil
½ spoon of salt
Preparation:
Peel the peaches and cut them into small pieces. Cut the walnuts into small pieces as well.
Whisk the eggs with caster sugar and salt. Once you have obtained a uniform mixture, add the oil, the grated lemon zest, the yoghurt and four pieces of peach.
Add the sifted starch, flour and baking powder and mix.
Pour the mixture into the plum cake mold. Flour the remaining walnuts and peach pieces and place them on the surface of the dough to form the decoration.
Bake in a preheated static oven at 170 degrees for 45 minutes. Once well cooked, let it rest in the oven for a few minutes before presenting it.
Novacart product used: PM OP 232 | Plum Cake baking mold in terracotta cardboard
Our PM baking mold is ideal for preparing this plum cake. The internal walls of this cardboard mold, white in color, are made up of a cardboard layer coupled with Pet film that makes it resistant to food fats. Our plum cake mold is also able to withstand freezing and baking up to 200 ° C.
It is recyclable and does not need to be inserted into other preformed metal molds thanks to its self-supporting structure. Finally, the elegant design, terracotta color on the outside and white on the inside, also makes it suitable for the final presentation of the plum cake.